IT STAFF, as our name suggests, we are a company that concentrates purely on the Information Technology Sector.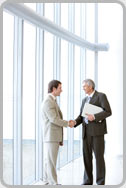 We are a dedicated team of professionals who work hard to provide the most suitable IT staff to a nationwide base of client companies.Some of our team have come out of the IT industry where they acted themselves as Hiring Managers. This gives us a wealth of experience in search and selection procedures and an in depth understanding of the industry to enable us to find the 'right fit'.
We have a constant advertising presence in National and International printed media as well as a vast daily representation on a host of IT specific web sites.Whatever your requirements, we can assure you a fast and professional response.We offer advice on all aspects of the recruitment process, from the industry best practices, to the legal issues to be observed.
The Partnership approach
At IT Staff, we are interested in developing long-term relationships with Client companies & with candidates. believe in working hard to build relationships with our clients and providing them with more than just an outsourced service. Our consultants are always happy to take the time to meet with a company and gain an understanding of their business, their approach and their culture. In doing so we can gain a better appreciation of what we can do to help them find the right people.
For candidates that meet our screening requirements, we will work to place them with an organsiation that also meets their needs. With this Partnership approach, we believe that we can enable clients & candidates to make the right choice thus ensuring a longer lasting relationship & for clients, a higher return on investment.